Letterbox Draught Seal - Internal Letter Plate Brush Seal With Sprung Flap - 292mm x 75mm - SAA Aluminium
Catalogue Number: 40144
Full Description
If you're buying in larger quantities please
call us on 020 8360 7771 or email for
trade discounts and prices.
Full Description
Aluminium finish, internal letter box brush seal with sprung flap.
The combination of the spring loaded flap and the brushes make this item Ideal for use on front doors, to help stop draught coming through the letter plate.
Also helps prevent dust, rain and people looking through the letter plate from the outside.
Simple, effective draught excluder, simply screws to the back of a front door to seal the hole made by the letter plate.
Metal flap with plastic frame.
Please note This item should only be used with letter plates that have a maximum outside aperture (hole size) of 254mm x 40mm.
Finish
SAA - Silver anodised aluminium metal flap.
Silver coloured plastic frame.
Dimensions
Overall Plate Size - 292mm x 75mm
Aperture (Opening) Size - 254mm x 40mm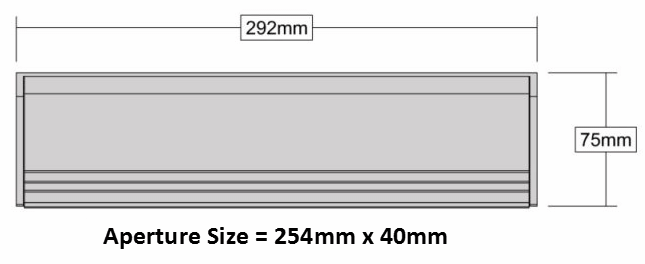 Specifications
| | |
| --- | --- |
| Brand | MAP Hardware |
| Finish | SAA - Silver Anodised Aluminium With Black Brush |
| Dimensions | 292mm x 75mm |
| Sold Per | Each |
| Availability | Stock Item |
Delivery
UK Mainland Delivery Charges:
Orders over £50 - FREE DELIVERY - (UK Mainland Only)
Orders under £50 and weighing under 1kg - £2.95 - (via 1st class post).
Orders under £50 and weighing over 1kg - £5.95


Delivery Times and Availability:
Most items will be delivered within 1 - 5 days unless otherwise stated.
If you require your products sooner, or in a certain time frame, please call us on 020 8360 7771 or email us at sales@gjohns.co.uk and we will see if we can arrange a quicker delivery time. (This may result in a higher delivery charge.)
Please note that all delivery times quoted are approximate and may be subject to unforeseen circumstances which are outside of our control. However, we will always endeavour to deliver within the times quoted.
For delivery information including returns and courier details please click here.