About Us - Architectural Ironmongers
G Johns & Sons Ltd - Architectural Ironmongers
We are family owned and run business that is over 125 years old, founded in 1888 as a builders contractors and incorporated in 1943 we were originally based in Islington, North London.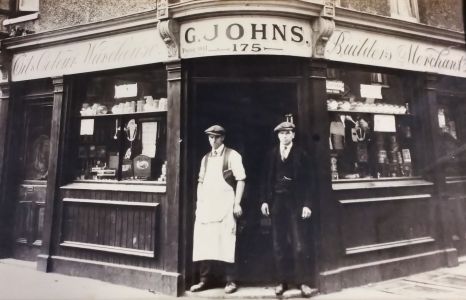 The above photo shows Dave Johns and his brother Harry Johns outside of the builders merchants they'd opened under the G Johns & Sons name when it was located at 175 Central Street, London, EC1 this photo is dated around 1930.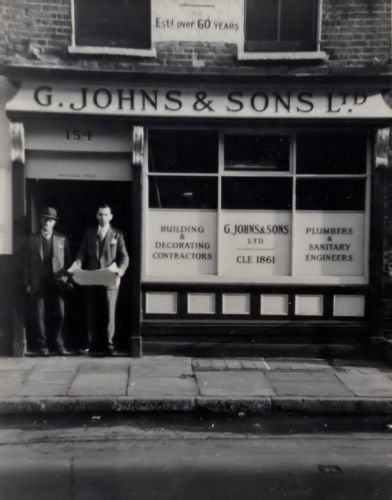 The above photo shows David Prigmore and Dave Johns outside of the office when it was located at 154 Central Street, London, EC1 and is dated around 1952
Under the trading name of The Brassware Company, we moved into supplying architectural ironmongery after opening our original showroom back in 1996 in Winchmore Hill, North London where we remain today selling architectural ironmongery to the trade and public.
As of May 2012 we've expanded and opened up a new larger showroom, which has being widely described by our customers, suppliers and manufacturers as the best showroom with the widest selection of ironmongery in London and the south-east.
As of January 2015 we decided to drop our trading name and return to using our limited company name of G Johns & Sons Ltd.
All of our staff have experience in the building and construction industry and associated trades. We are also full members of the Guild of Architectural Ironmongers with staff members that are full qualified registered architectural ironmongers. This means we keep up with the latest fire and building standards, making us qualified to complete full ironmongery schedules for residential, commercial and public buildings, therefore we are extremely well qualified to support and advise our customers.
We boast a wealth of experience in the business, supplying both the public and trade with the highest quality of fittings, backed by first class expertise and knowledge. We believe our levels of customer care are second to none. Equally, our sympathetic approach to customers taking on new challenges helps us to guide them right through starting with scheduling from architects drawings and quotations to the selection process and through to installation. As well as the many standards we have come to know, the only limitation is your own imagination and quantity is no issue, whether it be a single piece or thousands, we can provide exactly what you need.
Whether its price, quality or design led, we can supply architectural ironmongery to suit the following projects:
Residential properties
Large developments
Housing estates
Listed buildings
Refurbishment and restoration projects
Offices
Schools
Hospitals
Commercial properties
Who We Work With:
Architects
Building contractors
Designers
Developers
Project managers
Homeowners
Tradesmen
General builders
Carpenters
The casual DIY'er
Our Services Include:
Scheduling:
Whether it's a house or a hospital, if you need help trying to get your head round current legislation and regulations, come down and see us or send us through your drawings and we can compile a full Ironmongery schedule for your project.
Trade Customers:
For our regular trade customers we offer a trade discount off most of our products. We just require proof of your business and will ask you to fill out our trade customer form. Please follow the below link for more info and to download our trade customer form.
Refurbishment and Restoration Service:
We have the ability and contacts to refurbish and restore your existing hardware including a re-polishing and plating service.
Replicating From Originals:
We can, in many cases, reproduce an item by copying it from an original piece.
Can't Find What You're Looking For? - Contact Us
With literally thousands of products from over 100 different suppliers and manufacturers, if you can't find the product you're looking for on our website, or if you have a general or technical question about an item please give us a call on 020 8360 7771 or email us at [email protected]
We also welcome you to visit our North London showroom, which is open to the trade and public 5 days a week, to meet us and view our products in person.
Our Address and Contact Details:
G Johns & Sons Ltd
(Architectural Ironmongers)
719 - 721 Green Lanes
Winchmore Hill
London
N21 3RX
Telephone: 020 8360 7771
Email: [email protected]
VAT Number: 232 6618 72
Company Number: 00384076
Showroom & Office Opening Hours:
Monday to Friday: 9.00am - 5.00pm
Saturday: CLOSED
Sunday: CLOSED
Our North London showroom is open to the trade and public 5 days a week.