Fire rated intumescent sealed letter plate, designed for use on fire rated doors, ideal for use in block of flats.
306mm x 70mm overall size.
ABS black framed, telescopic letterbox, with metal flaps and fitted with a high performance intumescent liner.
In the event of fire the intumescent liner expands rapidly and seals off the letter plate opening, preventing the spread of fire and smoke whilst maintaining the integrity of the fire door assembly.
Letterbox flaps open to 180 degrees.
Adjustable telescopic sleeve set to suit 40mm - 80mm door thickness.
Fitted with brush pile draught excluder.
Integral sound dampening bumpers.
Ergonomic curved edge design.
Testing & Standards:
Fire tested to BS 476 part 22: 1987, 30 minute rated suitable for use of FD30 fire doors.
Smoke tested to BS 476 Part 31/1: 1983.
Acoustic tested to BS EN ISO 140-3:1995 Achieving 32dB Rw.
Security tested to BS EN 13724 Clause 6.6.5.
Finishes:
31205.5 - Satin stainless steel flap - with black frame.
31205.4 - Satin anodised aluminium (SAA) flap - with black frame.
31205.3 - Polished chrome flap - with black frame.
31205.1 - Polished gold aluminium (brass effect) flap - with black frame.
31205.2 - Polished brass flap - with black frame.
Dimensions:
Overall frame size - 306mm x 70mm
Apperture size - 254.5mm x 37.5mm
Sleeve depth - minimum 40mm - maximum 80mm
Flap opening angle 180 degrees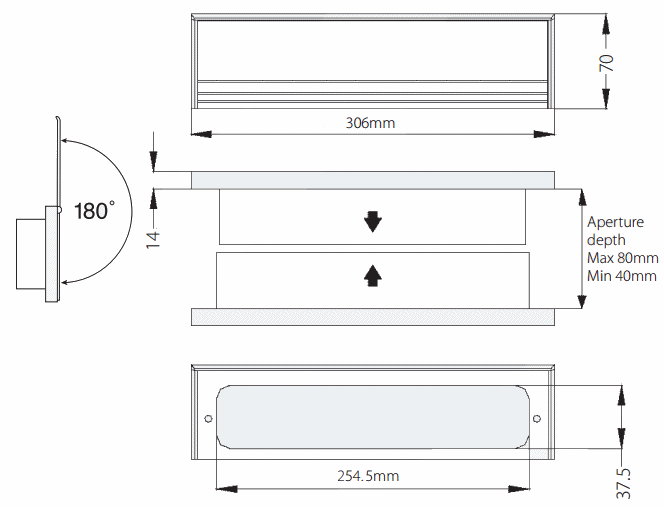 Sold Per:
Set includes inner and outer sleeved flaps with internal brush and intumescent seal.
More Information

| | |
| --- | --- |
| Item | 31205 |
| Item Code | 31205 |
| Finish | Gold Aluminium, Brass, Silver Aluminium, Stainless Steel, Chrome |
| Dimensions | 306mm x 70mm - For Doors 40mm-80mm Thick |
| Fire Rated | FD30 / FD60 - Fire Rated |
| Sold Per | Set |
| Availability | Non stock product - please allow 3-7 days for delivery |
Non stock product - please allow 3-7 days for delivery
Download PDF Data Sheet