Our Services - The Complete Ironmongery Package - Design / Manufacture / Schedule / Supply / After Care
What is ironmongery Scheduling?
Scheduling is the process of correctly listing all the items of hardware required for each door (and window) in a building project.
Why do I need a schedule?
Having an ironmongery schedule can bring the following benefits to the client: Ensures the requirements of security, fire safety and functionality are met Ensures the requirements of legislation and regulation are met Contributes to the buildings overall design Enhances the quality of environment for the end users Potentially reduces the whole life maintenance costs for the building through correct specification.
How much does it cost?
If you contact us to quote for a project, we can produce an ironmongery schedule for you free of charge.
What does our service include?
Our service includes meeting with architects, designers and clients on site or schedule in a meeting with one of our expert architectural ironmongers in our Harlow, Essex office.
Projects based in the London area we also have the facility to meet on site.
With most of our business now conducted over the phone and via email, we are also more than happy to be sent drawings and plans in the post or electronically.
Once you've made contact with us we normally start by talking through the requirements of the project such as designs, finishes, quality and budgets, we then go through the floor plans door by door to produce an ironmongery schedule and quote.
We also have the facility to draw up and design sophisticated master key suites, starting from a few cylinders under the same key all the way up to grand master key suites with separate sub suites for different floors, areas or even buildings.
Many of our clients have worked closely with us on numerous projects over the last 17 years and we feel that this is down to the close working relationships we try to build during a project backed up with our high levels of customer service.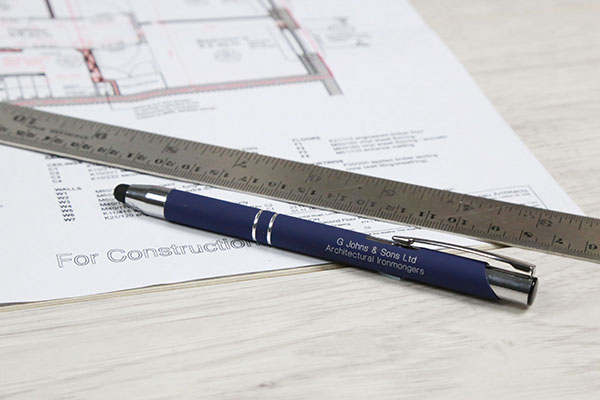 Our Address and Contact Details:
G Johns & Sons Ltd
Unit D West Side Business Centre
Flex Meadow
Harlow
Essex
CM19 5SR
Telephone: 020 8360 7771
Email: [email protected]
VAT Number: 232 6618 72
Company Number: 00384076
Office Opening Hours:
Monday to Friday: 9.00am - 5.00pm
Saturday: CLOSED
Sunday: CLOSED