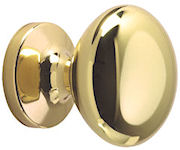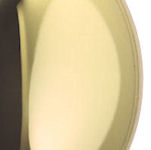 What does PVD stand for?
PVD stands for Physical Vapour Deposition.
Some companies have brand names for their PVD items such as Everbrite and Stainless Brass or just PVD Brass.
What is the PVD Brass finish
PVD is a process where metal surfaces such as brass door handles and letter plates are placed inside a vacuum chamber and coated in a thin layer of molecules of hard wearing metals such as Zirconium. This layer of hard wearing molecules is so strong it stops the brass from tarnishing.
What colour is PVD Brass?
PVD brass is a gold colour with a high mirror like shine. PVD is very similar to polished brass but the PVD is slightly richer in colour. The PVD colour can vary slightly between manufacturers.
Are PVD Brass products made from real brass?
Yes most of the PVD items are made from real brass. There are some products on the market such as hinges which are made from stainless steel, electro brass plated and then put through the PVD process.
What are the advantages of PVD Brass over regular Polished Brass?
The PVD door furniture is ideal for areas where regular polished brass items would tarnish quickly such as:
Costal areas
Public buildings such as banks and offices
General external areas such as front doors
The PVD can withstand the salt in the air when living by the sea, the moisture and acidity from people's hands in public buildings and when fitted in normal external conditions it will withstand the pollution in the air and the acidity in the rain.
It is worth noting that while the finish of the item (the polished brass) is protected by the PVD process the mechanisms and springs inside the items are not. For PVD Brass items fitted in harsh conditions you should keep mechanisms and springs well-greased and oiled.
How long will PVD products last?
Most companies offer a 25 year guarantee with their PVD ranges. This guarantee covers the brass from tarnishing in those 25 years.
This long guarantee proves that the PVD finish is designed to last a very long time, even in coastal areas where polished brass items would normally tarnish very quickly in the salty sea air.
How to clean and maintain PVD Brass items.
PVD Brass items are virtually maintenance free and are guaranteed not to tarnish. Some companies recommend cleaning the products every couple of months to remove deposits of dirt and fingerprints, this is best done with warm soapy water. For stubborn marks white spirit can be used. As with any metal finish the more regularly the item is cleaned the longer it will last and the nicer it will look.
What items are available in PVD Brass
Because the PVD process is relatively expensive and time consuming, (not many products are able to be done at once) the range is currently limited to mainly front door fittings and some door handles. Please use the below links for more information:
PVD Brass – Door Handles
PVD Brass – Letter Plates
PVD Brass – Door Knockers
PVD Brass – Centre Front Door Knobs
PVD Brass – Door Bells
PVD Brass – Cylinder Pulls
PVD Brass – Door Numbers
PVD Brass – Escutcheons