Scrigno Single Sliding Pocket Door Kit - Fire Rated Kit - FD30 - 125mm Finished Wall Thickness
Time saving pre-assembled single sliding pocket from Scrigno
Simple and quick installation.
Suits doors 35mm - 44mm thick.
Endpost, crosspieces, cassette edge covers, door brushes and seals included with all Scrigno sliding pocket door systems.
Full Description
Related Products
The Scrigno (pronounced Scree-nio) sliding door gear system uses a pre-fabricated cassette system to create a single sliding pocket door.
Unlike most other pocket door solutions available today, Scrigno systems come pre-fabricated. Just drop the supplied aluzinc cage into place, plaster over the opening and then you're ready to install the door of your choice on the hangers and sliding track provided.
Allows an interior door to slide and disappear into a "pocket" within the wall cavity.
Each set includes all the main components needed to install a long lasting, smooth running sliding door including a pre-made steel cassette pocket which is used to create the wall cavity or "pocket" for the door to slide into.
This high quality sliding door gear is suitable for residential and commercial applications. The unique design allows doors between 35mm-45mm thick to be installed with a finished wall of 125 mm.
Supplied as a kit to create the pocket, which can be fully fitted in under 60 minutes by a skilled installer.
Suitable for doors up to 100kg in weight.
Suitable for use with timber doors only - door not included.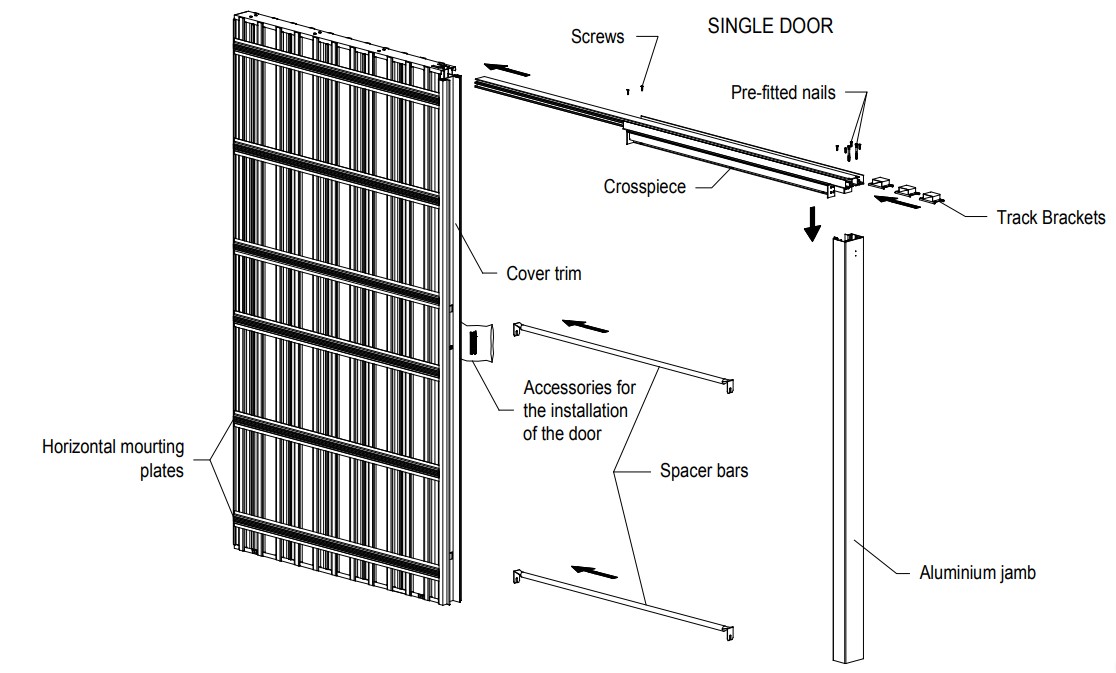 Accessories Available To Suit The Scrigno Single Pocket Door System
Soft close mechanism - to dampen softly close the sliding door. - (sold separately).
Features & Benefits
Space saving - sliding doors help create up to 8% more living more space within a property
Easy access
Quiet operation
Easy installation
Economical
Prefabricated cassette design allows for very quick installation on site.
Dimensions - Frame Sizes & Door Kit Sizes Available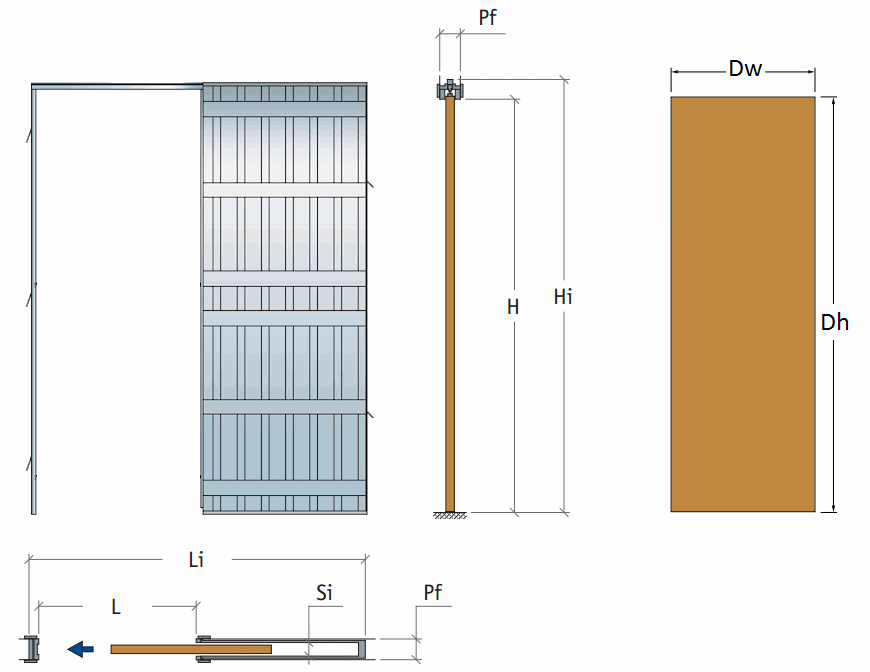 | Item Code | Door Size (Dw x Dh) | Max Passage Size (L x H) | Overall Frame Size (Li x Hi) | Finished Wall Thickness (Pf) |
| --- | --- | --- | --- | --- |
| 48706.1 | 686mm x 1981mm - (2ft. 3in. x 6ft. 6in.) | 656mm x 1970mm | 1490mm x 2080mm | 125mm |
| 48706.2 | 762mm x 1981mm - (2ft. 6in. x 6ft. 6in.) | 732mm x 1970mm | 1616mm x 2080mm | 125mm |
| 48706.3 | 838mm x 1981mm - (2ft. 9in. x 6ft. 6in.) | 808mm x 1970mm | 1792mm x 2080mm | 125mm |
| 48706.4 | 914mm x 1981mm - (3ft. 0in. x 6ft. 6in.) | 884mm x 1970mm | 1918mm x 2080mm | 125mm |
|   |   |   |   |   |
| 48706.5 | 726mm x 2040mm - (Metric Door) | 686mm x 2030mm | 1530mm x 2140mm | 125mm |
| 48706.6 | 926mm x 2040mm - (Metric Door) | 786mm x 2030mm | 1930mm x 2140mm | 125mm |
| 48706.7 | 826mm x 2040mm - (Metric Door) | 886mm x 2030mm | 1730mm x 2140mm | 125mm |
| 48706.8 | 1026mm x 2040mm - (Metric Door) | 986mm x 2030mm | 2130mm x 2140mm | 125mm |
Please note plasterboard is not provided with this kit and must be bought separately.
Items Included Within The Scrigno Pocket Sliding Door Kit
Metal cassette to create the "pocket"
Screws to fix plasterboard to metal frame - (Plasterboard not supplied)
Roller bearing door hanger kit
More Information

| | |
| --- | --- |
| Item | 48706 |
| Item Code | 48706 |
| Finish | - |
| Dimensions | 125mm Wall Thickness |
| Fire Rated | FD30 - Fire Rated |
| Sold Per | Kit |
| Availability | Non stock product - sent direct from factory - please allow 2-3 working days for delivery |
Non stock product - sent direct from factory - please allow 2-3 working days for delivery
Download PDF Data Sheet